Liber Amicorum: Festschriften for Music
Scholars and Nonmusicians, 1840–1966
Edited by Zdravko Blažeković and James R. Cowdery
(RILM Retrospectives no. 5)
In spite of their widely acknowledged importance, music Festschriften have been far from accessible to researchers. RILM has addressed this need with an abstracted and indexed bibliography of 3881 essays on musical topics from 715 Festschriften dedicated to music scholars and others published before RILM's regular bibliographic coverage began in 1967. Reflecting the currents of history from the mid-nineteenth to the mid-twentieth century—the advent of ethnomusicology, the rise and fall of Nazism, and the heyday of serialism, to name just a few—this compilation provides vivid insights into the histories of cultures, disciplines, institutions, and prominent individuals.
During the preparation of this volume, RILM editors worked directly with the original publications; the 4596 records represent books from 40 countries, in 31 languages. A special effort was made to capture music scholarship in the context of other disciplines; consequently, music scholarship most likely to have remained hidden in fields such as archaeology, linguistics, theology, philosophy, and medicine is brought to light.
Starting with a book issued in 1840 for the 400th anniversary celebrations of Johannes Gutenberg's development of the printing press, the volume comprehensively documents music culture through Festschriften dedicated to scholars and others.
Reviews
In the case of research tools like the RILM database, indexes of pre-1967 sources are critical to achieving bibliographic control over a research topic. RILM's Festschrift indexes … provide thorough and accessible sources for such coverage. In short, Liber Amicorum is an excellent beginning to this project. (Allen, Scott, Notes: Quarterly Journal of the Music Library Association, 2010)
Overall, Liber Amicorum is an impressive, noteworthy publication that stands alone in its breadth of information. It brings scholars researchers a complete, comprehensive collection of information that has, up until now, been difficult to access. (Laurel Tarulli, Fontes Artis Musicae, 2011)
The coverage and inclusiveness of Liber Amicorum appear to be quite convincing … the Liber Amicorum is complete and reliable. (Thomas Holme, Danish Yearbook of Musicology, 2010/11)
Польза liber amicorum для музыкального научного мира несомненна. Тиражи (юбилейных изданий) обычно невелики, …и благодаря труду сотрудников Международного центра RILM, этот малоизвестный материал получает всестороннее информационное освещение и вводится в поле зрения ученых и исполнителей. (Kirill Vladimirovič Diskin, Opera musicologica: Naučnyj žurnal Sankt-Peterburgskoj konservatorii, 2010)
Published: 2009
Hardcover: xxxii, 599 pages
ISBN: 978-1-932765-04-5; 1-932765-04-2
Price: $115
To purchase this book or any of the RILM publications please email info@rilm.org
Agencies and Bookstores receive a discount.
International shipping is $25.00; Domestic $10.00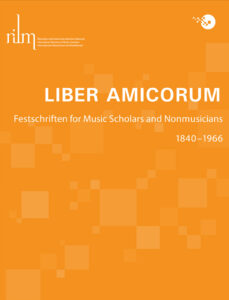 Speaking of Music: Music Conferences, 1835–1966
Edited by James R. Crowdery, Zdravko Blažeković, and Barry S. Brook
(RILM Retrospectives no. 4)
Papers presented at conferences are crucial sources for scholars, but locating them can be laborious and frustrating. To address this need, the RILM has published a bibliography of some 6,000 papers on musical topics from nearly 500 conferences held between 1835 and 1966. This volume includes selected items from conferences devoted to nonmusical topics such as psychology or acoustics, as well as full coverage of those devoted exclusively to music. Each entry includes a full bibliographic citation and summary; detailed indexes are provided, organized by topics and authors as well as by conference locations and sponsors. Reflecting myriad currents of thought from the mid-nineteenth to the mid–twentieth century–the heyday of Romanticism, the advent of modernism, the rise and fall of Marxism, and the emergence of multiculturalism, to name just a few. This book provides a fascinating window on intellectual history through the prism of music.
Winner of the 2006 Music Library Association's Vincent H. Duckles Award for "best book-length bibliography or other research tool in music".
Reviews
Speaking of music now emerges as the dominant voice in retrospective indexing of congress reports and papers on musical topics. (Manuel Erviti, Notes: Quarterly Journal of the Music Library Association, 2005)
Scholars studying the history of music scholarship will dig deeply into the listings, making the set essential in major research libraries. (ChoiceReviews)
…a significant accomplishment in musicology not only because it fills a void, and it provides researchers with rich material, but also because it draws a detailed picture of the genesis and development of the discipline and its role in universal culture. (János Kárpáti, Magyar zene: Zenetudományi folyóirat, 2005)
Published: 2004
Hardcover: xxii, 740
ISBN: 978-1-932765-00-7; 1-932765-00-X
Price: $50
To purchase this book or any of the RILM publications please email info@rilm.org
Agencies and Bookstores receive a discount
International shipping is $25.00; Domestic $10.00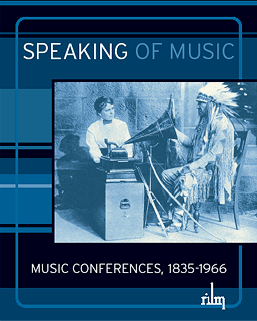 Guitar and Vihuela: An Annotated Bibliography
Edited by Meredith Alice McCutcheon
(RILM Retrospectives no. 3)
Published: Stuyvesant: Pendragon Press, 1985
Hardcover: xlv, 353 pages
ISBN: 0-918728-28-2
Thèses de doctorat en langue française relatives a la musique: Bibliographie commentée/French-language Dissertations in Music: An Annotated Bibliography
Edited by Jean Gribenski
(RILM Retrospectives no. 2)
Published: Stuyvesant: Pendragon Press, 1979
Hardcover: xxxix, 270 pages
ISBN: 0-918728-09-6
Thematic Catalogues in Music
Edited by Barry S. Brook
(RILM Retrospectives no. 1)
Published: Hillsdale: Pendragon Press, 1972
Hardcover: xxxvi, 347 pages