Music's Intellectual History
Edited by Zdravko Blažeković and Barbara Dobbs Mackenzie

This inaugural volume of the RILM Perspectives series comprises 66 essays that offer fascinating insights into the history of music scholarship from the Renaissance to the 20th century and demonstrate the natural partnership of RILM and historiographic investigation. The contributions address an array of subjects and perspectives that indicate the directions music scholarship has taken in the past, reveal the precedents of current scholarly habits, and suggest future paths for further pursuits. The articles—which began life as papers presented at RILM's first conference on 16–19 March 2005 at The Graduate Center in New York City—are grouped under the following sections:
PERSONALITIES: MUSIC SCHOLARS profiles key figures in the founding and furthering of music scholarship, from 16th-century theorists through 20th-century musicologists and ethnomusicologists.
PERSONALITIES: COMPOSERS brings new perspectives on the reception history of Bach, Händel, Wolf, Schoenberg, Stravinsky, and Ligeti.
NATIONAL STUDIES explores historiographic issues pertaining to the music histories of Africa, Brazil, Croatia, Denmark, France, Germany, Hungary, India, Italy, New Zealand, Romania, Serbia, and the United States.
ENCYCLOPEDIAS presents methodological topics and the main lexicographical efforts of the 20th century in Germany, the USSR, and the United Kingdom.
PERIODICALS analyzes the significance of the German Allgemeine musikalische Zeitung, the Serbian Gusle, and the French La revue musicale.
HISTORIOGRAPHY AND ITS DIRECTIONS contains articles that explore music scholarship's relationships to fields including performance, fiction, biography, information theory, genealogy, and politics.
Reviews
…comprises a wealth of relevant information – in a great many different directions – that in some respects otherwise would be hard to get. And herein lies its strength and usability. (Thomas Holme, Danish Yearbook of Musicology, 2010/11)
Sjajna knjiga, sjajna tehnologija proizvodnje izgrađena na resursima rilmovskih baza i umreženih podataka i sintagmi, umreženih izvora, živih organizama muzikoloških, historiografskih i širinom obrađenih predmeta usustavljenih podataka. (Gorana Doliner, Arti musices, 2010)
L'ensemble des articles réunis dans Music's Intellectual History offre un aperçu d'une rare diversité sur l'activité musicologique d'aujourd'hui et le lecteur est tenté de reprendre à son compte l'image de la préface évoquée précédemment : celle d'une montagne du haut de laquelle il peut observer les tendances et les courants actuels de la discipline. (Fanny Gribenski, Revue de musicologie, 2011)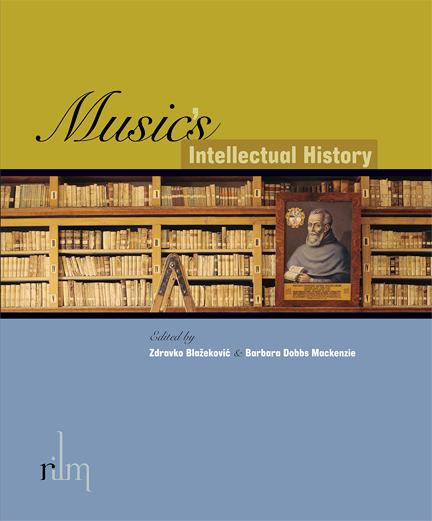 Published: 2009
Hardcover: ix, 881 pages
Dimensions: 8 1/8″ x 10 3/16 inches
ISBN: 978-1-932765-05-2

Price: $155
To purchase this book or any of the RILM publications please do so via https://rilmstore.onfastspring.com/publications or email info@rilm.org
Agencies and Bookstores receive a discount.
International shipping is $25.00; Domestic $10.00